Grain Elevator Merchandiser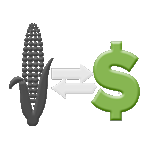 Our Grain Elevator Merchandising hedging program is the total package. It gives you a full-time grain merchandiser and manager at a fraction of the cost of on-site management.
We can guide new and seasoned merchandisers on proper risk management.
The focus will be on basis, spreads, position management and hedging. The program will help take advantage of market volatility with both risk and opportunity guidance by a former grain Co-op manager. You will be assisted in education and trade concepts in cash, futures, and options.
For more information on how we can help you with Grain Elevator Management call us at 515-222-1393  or email us using the form below.