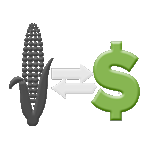 Ideally, a marketing plan should be in place from the time ground is secured but it is never too late to create a plan. We can help immediately in developing a marketing plan for old crop and future crops.
Our mission and goal is to help producers manage risk associated with agriculture production, specifically grain production for a minimal fee based per acre, farmers will receive guidance throughout a full year. Advice will be tailored around your financial needs, tax, transportation, basis, and storage.
For more information on how we can help you with Farmer Marketing call us at 515-222-1393  or email us using the form below.